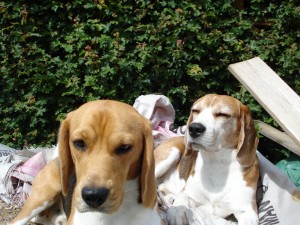 Spekulerer du nogensinde på, hvad hunde må tænke om os? Jeg mener, når vi kommer hjem fra supermarkedet med den mest utrolige fangst – kylling, flæsk, en halv ko. De må tro, vi er de bedste jægere på jorden!
(Anne Tyler)
En af årsagerne til at hunde har så mange venner, er at de bevæger halen i stedet for tungen.
(Ukendt)
Jeg håber at hvis hunde nogensinde overtager verden, og de vælger en konge, at de ikke kun går efter størrelsen, for jeg vil vædde på at der er nogle chihuahuaer med rigtig gode ideer.
(Jack Handrey)
Der er flere historier med eksempler på hundes troskab end på menneskers.
(Alexander Pope)
Med penge kan du købe en god hund, men du får den ikke til at logre med halen.
(Josh Billings)
Nogle af mine bedste mandlige medspillere har været hunde og heste.
(Elizabeth Taylor)
En hunds liv er for kort. Det er faktisk dens eneste fejl.
(Carlotta Monterey O'Neill)
We give dogs time we can spare, space we can spare and love we can spare. And in return, dogs give us their all. It's the best deal man has ever made.
(M. Facklan)
He is your friend, your partner, your defender, your dog. You are his life, his love, his leader. He will be yours, faithful and true, to the last beat of his heart. You owe it to him to be worthy of such devotion.
(Ukendt)
Jeg ejer ikke min hund. Det er den, der ejer mig. Jeg tror Rufus synes om mig. Den har lært mig at kaste pinde, som den kan løbe efter.
(Winston Churchill)
"Bare en hund" er der mennesker, der siger. Er det "bare", at et andet liv har sluttet sig til mit, at en hale klapper i gulvet af glæde ved at høre min stemme, at en snude fortroligt stikker sig ind i min hånd, at to øjne røber mig verdener af tillid og hengivenhed.
(Kaj Munk)